Post by Karl Welteke on Jul 25, 2014 19:54:20 GMT 8
USS HOUSTON SURVIVAL STORY
The U-T San Diego News Service reports:
Veteran of the River Kwai: San Marcos man among survivors in book about lost USS Houston
Here is the URL page 3 out of 3 and the text is also pasted here after:
www.utsandiego.com/news/2006/Nov/12/veteran-of-the-river-kwai-san-marcos-man-among/3/?#article-copy
"She had a suicidal mission, without adequate air-support,
"And nine deadly eight-inch guns, her main and last resort."
- Opening stanza to 28-stanza poem "Battle Cruise of the Flagship Houston," written by Willey while a prisoner of war.
"I may be partial, but I think they're excellent," his wife, Dorothy, said about Willey's poems.
Hornfischer said there are 30 Houston survivors left, including the two other Marines, Bob Charles and Ned Gallagher.
Although they have never had large numbers, survivors formed a loyal reunion organization that meets annually in Houston.
"These guys never got over this," Dorothy said. "The reunions they have is the best thing for them."
Another moment of appreciation came recently when Willey lent a hand to 22-year-old Marine Cpl. Scott LaMothe, grandson of one of Willey's neighbors. Willey helped LaMothe tie the perfect military knot in his tie. As thanks for that favor and for the veteran's war service, LaMothe gave Willey his unit's medallion and an American flag flown over Camp Fallujah in Iraq.
The elder Marine also still gets letters, sometimes three a week, from an English friend and fellow POW he sponsored when applying for U.S. citizenship, Dorothy said.
As for the railway Willey and other POWs worked on, it proved to be not particularly helpful for Japan after all, since Burma was lost to the English.
The bridge still stands, however.
"It's now a tourist attraction," Hornfischer said about the railway. "You can ride it for five bucks."
THE SAME NEWS PAPER HAS ANOTHER AND RELATED STORY ABOUT THIS MARINE:
www.utsandiego.com/news/2006/Oct/21/young-marine-honors-world-war-ii-marine-prisoner/
Here is the picture and the text: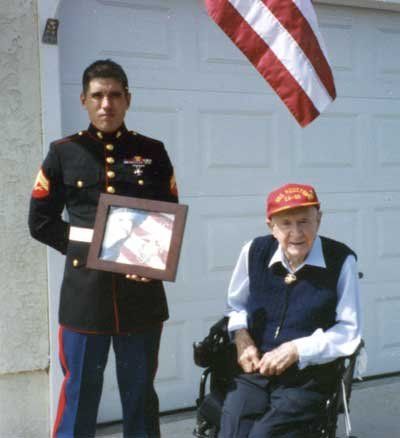 Z614---
A chance encounter between a young, proud Marine currently serving his country as a member of 'Operation Iraqi Freedom' and an honored Marine World War II Prisoner of War has led to a unique friendship that exemplifies the old saying: 'Once a Marine, Always a Marine.'
Corporal Scott D. LaMothe first met Lloyd Willey while visiting his grandparents in San Marcos a few years ago. LaMothe was reroute to Camp Pendleton to report for duty when he found himself in a dilemma; he couldn't seem to get the perfect knot in his tie.
His grandmother, Pat Balan, couldn't seem to get the knot right either and suggested going to her next door neighbor Dorothy Willey for assistance. When Willey couldn't master the knot she turned to her husband Lloyd, 92, a retired Marine and ex-POW, a master of tying knots. The veteran Marine assisted the young warrior and a friendship began that has continued to grow between them.
LaMothe never forgot Lloyd Willey's kindness and he had been deeply touched by Lloyd's ordeal as a POW during WW II. He also wanted to repay him for his kindness and for his service during WW II. When LaMothe returned from his first tour of duty in Iraq he presented Lloyd his unit's medallion, a coin cherished by its members.
After returning from his second tour of duty, LaMothe presented Lloyd with an American flag flown over Camp Fallujah in Iraq on Aug. 21 in personal recognition of Lloyd's contribution and service to his country.
Then, on Sept. 17, LaMothe, above left, arrived at the Willey house wearing his Marine dress blues. In a brief, but touching ceremony he presented Lloyd, right, with a perfectly folded American flag, accompanied by a framed Certificate of Authenticity signed by the Commanding General, officially recognizing Lloyd for his WW II service and dedication to his country.
A thousand memories flooded through Lloyd's mind, but first and foremost was the fact that this young 22-year-old Marine had taken the time to pass on his respect from one generation to another - the true meaning of 'Semper Fi' - 'always faithful.'