Post by Karl Welteke on Mar 20, 2013 10:34:18 GMT 8
45th Anniversary of the Jabidah Massacre Commemoration and Groundbreaking of the Mindanao Peace Garden, the 18th of March 2013 on Corregidor.
The Philippine President led the Commemoration and the Groundbreaking. EXO made me aware of this event because I hadn't looked yet at our forum. First I said, I had no plans and then I told my wife that I was going. The whole family insisted to go. Then I had the idea to invite Bob Hudson and he was going to bring his family also.
We used the Villa Carmen boat for 3000 peso and gratefully I can report that at the moment that Manila Bay and the North Channel were calm both going and returning. The Philippine Navy and Coast Guard had assets in the North Channel, maybe they had more in the South Channel.
The Commemoration was to be held at the Mindanao Peace Garden which is located at the entrance of the Kindley Airfield. That is some distance from our boat landing and transportation was our next concern but the CFI Staff helped us in that department.
We could not sit with the regular guests because, I guess, we were uninvited guests. As it turned out we were close to the Groundbreaking site and got some photos there.
When the President participates in an event like this and it is on an island it requires a lot of logistics. An LST was moored bow to the North Dock and presumable brought most of the vehicles, people etc. There may have been more assets at the South Dock. The President and VIP guest came with 4 helicopters.
I noticed the island was also running regular visitor tours in spite of all the upheaval.
I thought it was a lot of visitors and guests who came. Many came from all the way in Mindanao. The President and a lady were the main speakers. Lt. Col. Matibag spoke also and his voice was the clearest (He is Military of course). It was a beautiful day on Corregidor and we experienced a light breeze at the site.
I put all the pictures into this Photobucket album. It has some pictures which are not all that relative to the main story such as too many family shots, Bob Hudson showed a special Death March Marker and my daughter found some artifacts. So here is the album with 70 images:
app.photobucket.com/u/PI-Sailor/a/5c7f65f4-4e13-434b-87c4-4fcf93e88322
The Headline in the Star News Paper said this:
P-Noy: Sabah Standoff, a Tragedy like the Jabidah Massacre
Here is the URL
www.philstar.com/headlines/2013/03/19/921473/p-noy-sabah-standoff-tragedy-jabidah-massacre
This is what the article said:
By Aurea Calica (The Philippine Star) | Updated March 19, 2013 - 12:00am
CORREGIDOR ISLAND, Philippines – The tragedy of the Jabidah massacre 45 years ago is being replayed in the raging hostilities in Sabah involving mostly Filipino Muslims and Malaysian forces.
President Aquino made the comparison yesterday as he led the commemoration of the massacre that took place at an airstrip here now called the Garden of Peace in honor of some 180 young Muslim soldiers recruited by the Marcos regime to launch Operation Merdeka to retake Sabah.
The recruits protested upon learning of their mission and were gunned down by soldiers. Only one, Jibin Arula, survived.
Aquino said Sulu Sultan Jamalul Kiram III and his followers battling Malaysian forces in Sabah seem to have not learned from the lessons of the Jabidah massacre.
"Up to now, we know that there are those who are attempting to use ordinary Moros to push their own selfish agenda. Isn't it that the developments we are seeing during the past weeks seem to show that history is repeating itself?" Aquino said.
"There are still those who feed them to danger, many risk their safety while the instigators comfortably watch from afar. Instead of telling them, 'Go home, your lives are important,' they keep on agitating them, they keep on inciting them, like parts being used as bullets for a hidden agenda," the President said, apparently in veiled reference to the Kirams.
Headlines ( Article MRec ), pagematch: 1, sectionmatch: 1
In commemorating the incident, Aquino said it is important that the nation remembers and keeps in its heart the value of peace.
The Jabidah massacre was believed to have sparked the Muslim rebellion led by Moro National Liberation Front chairman Nur Misuari. It also soured relations with Malaysia, which is also claiming Sabah as part of its territory.
"What's happening in Lahad Datu is a tragedy, like the tragedy that happened in Jabidah. But the biggest tragedy is we don't learn from lessons of the past – that following the law and respecting rules are the only justifiable response to the challenges we are facing," he said.
He said the Sabah incursion "will only give rise to more conflicts and possibly create problems that will count generations before they can be solved," Aquino said.
In refusing to leave Sabah, the Kirams said the territory was a reward given to them by Brunei for helping quell a rebellion. They also said Malaysia had been paying rent since Britain's annexation of the territory to Kuala Lumpur in 1963.
On Feb. 12, some 300 followers of the Kirams – many of them armed – went to Lahad Datu in a bid to renew their claim on the territory. Malaysian forces launched an assault weeks later, killing dozens of the sultan's followers as well as some civilians.
It was the President's father, then senator Benigno Aquino Jr., who exposed the Jabidah massacre on March 28, 1968, or 10 days after the killings.
Cost of war
The President lamented that the cost of Kiram's followers' foray into Sabah was staggering, even excluding the deaths and psychological trauma experienced by many.
He said the other Filipinos living and working peacefully in Sabah also had to go back to Mindanao. He said this could greatly affect the country's economy.
Aquino explained the government would have to take care of them and based on estimates, the government would need P4.87 billion every year for the food supplies alone of up to 160,000 families evacuating from Sabah.
For their housing, the President said his administration would have to spend P32 billion and this did not include the properties or pieces of land where the shelters would be built.
There will also be additional schools needed, health insurance policies and other social services to help them live with dignity, Aquino said.
He asked what programs could possibly be sacrificed to fill these needs when there were many other Filipinos who must be given assistance.
"Can we whisper to them, 'Sorry we have to delay your lives' improvement?'" Aquino said.
"No matter how hard you try to sympathize, you can't help but regret, feel sad and get tested in terms of patience – because like what happened in Jabidah, there are people who think of themselves first before their fellow Filipinos," he said.
On the need to commemorate the Jabidah massacre, Aquino said the country should not forget its past, even the dark episodes.
"Until now, there is no official acknowledgement from the government (that it happened), just like rumors being inserted in books and taught in schools, there are no moves to record this in our history as a wound of our past," Aquino said.
Here are some sample images: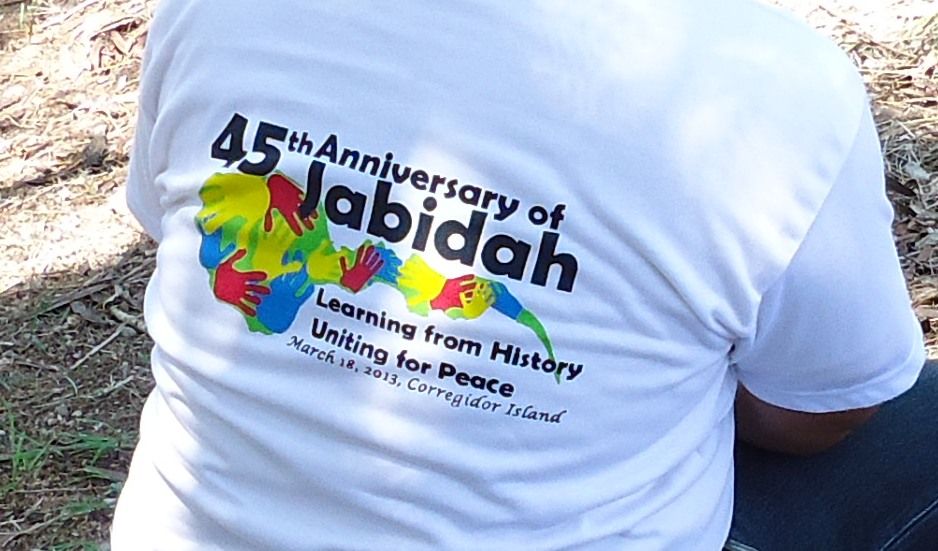 366. Most visitors had this shirt on.
367. This tent was obviously rigged for the Groundbreaking ceremony. We were able to stay in those woods at left, rather close. I had some nice conservations with those Presidential Security Team Personnel.
368. Close-up of the sign in the previous image.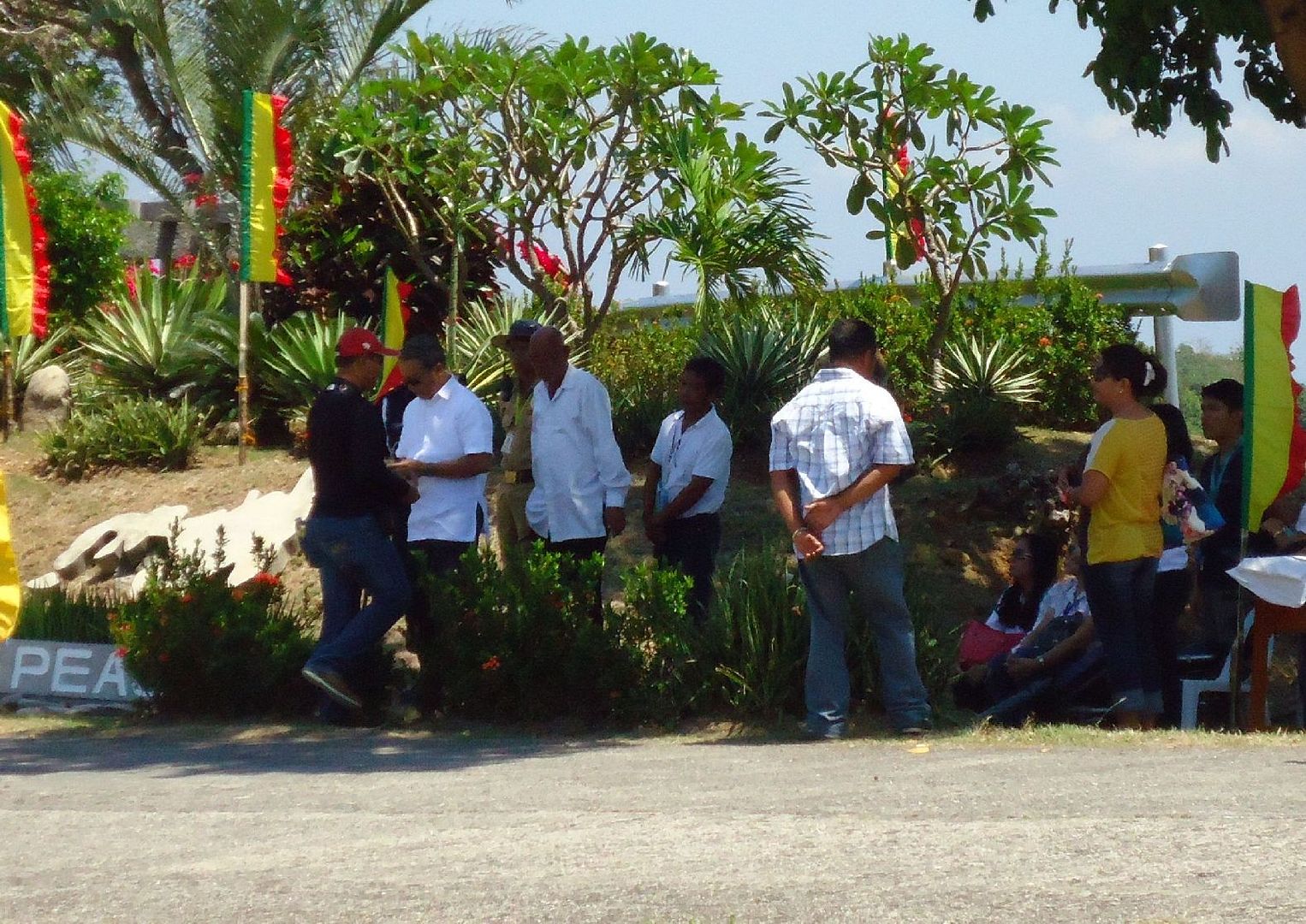 369. Lt. Col. Matibag and his CFI Staff standing by in a shady spot. I bet they had some busy days, today, before and clean up after this.
370. The tents seem to be full already and that is before I really seen some more bus loads of people arrive.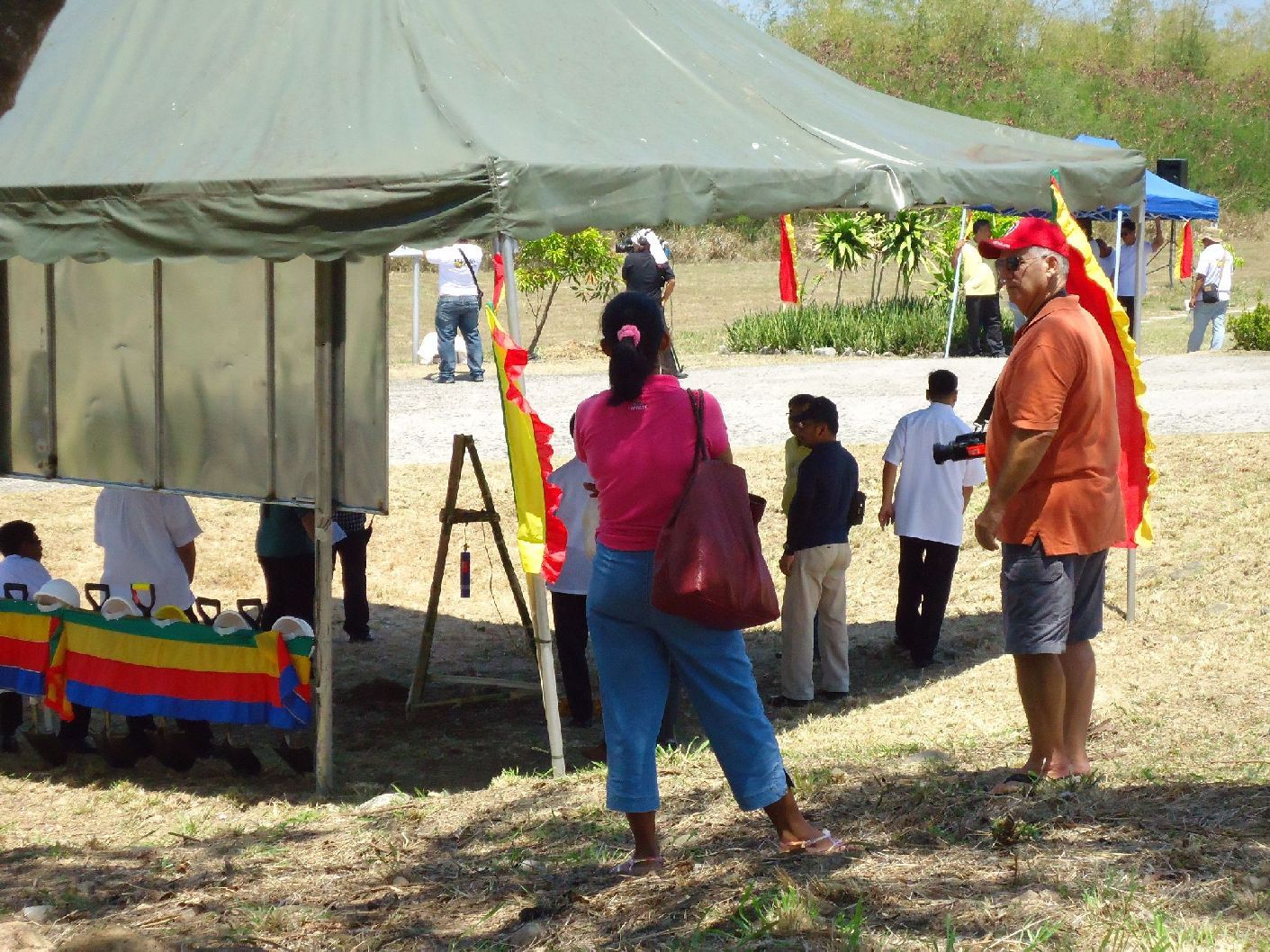 371. Bob and his bride got a close position but were shooed away shortly here after.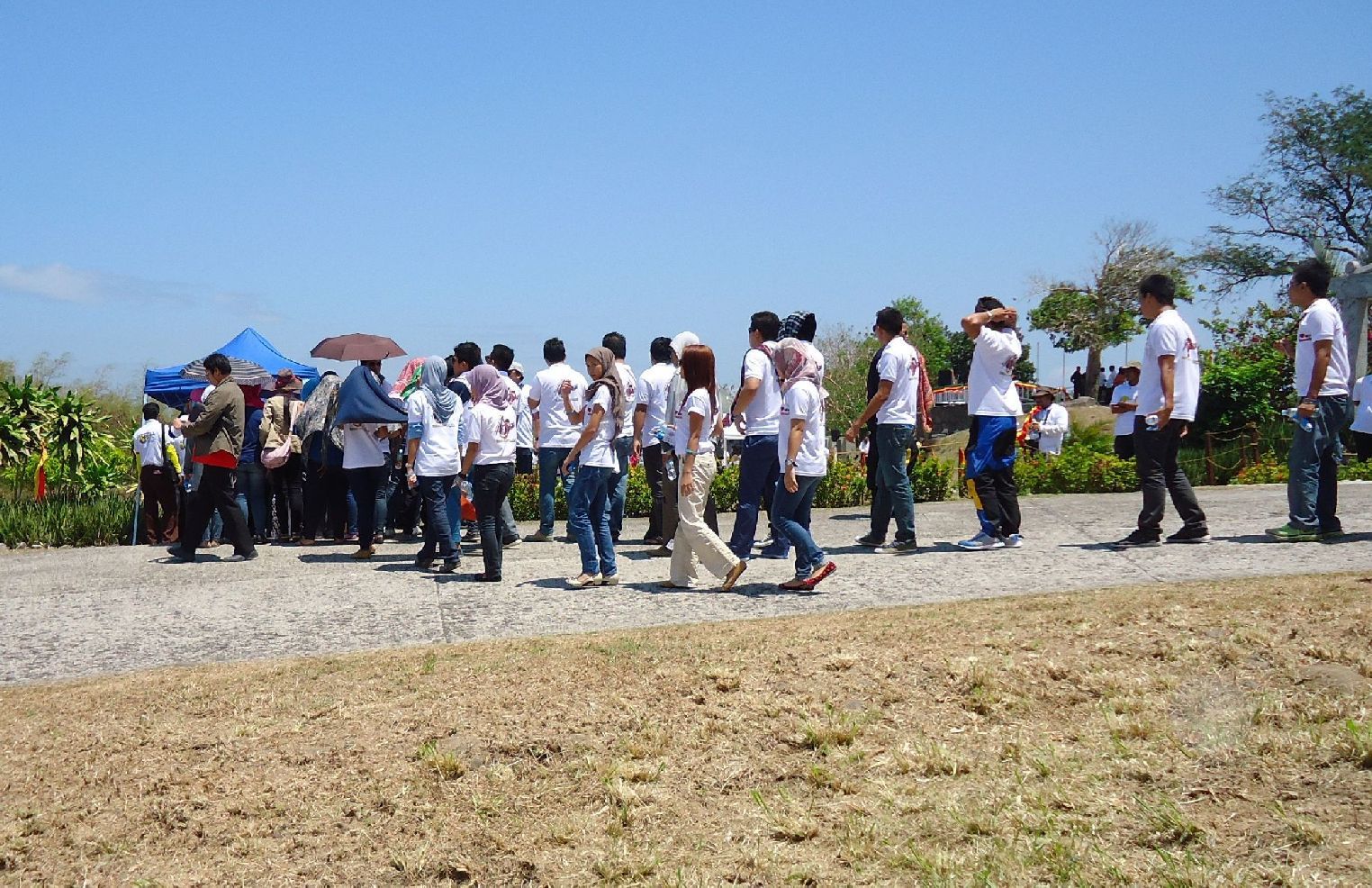 372. Several fully loaded buses or trolleys arrived then.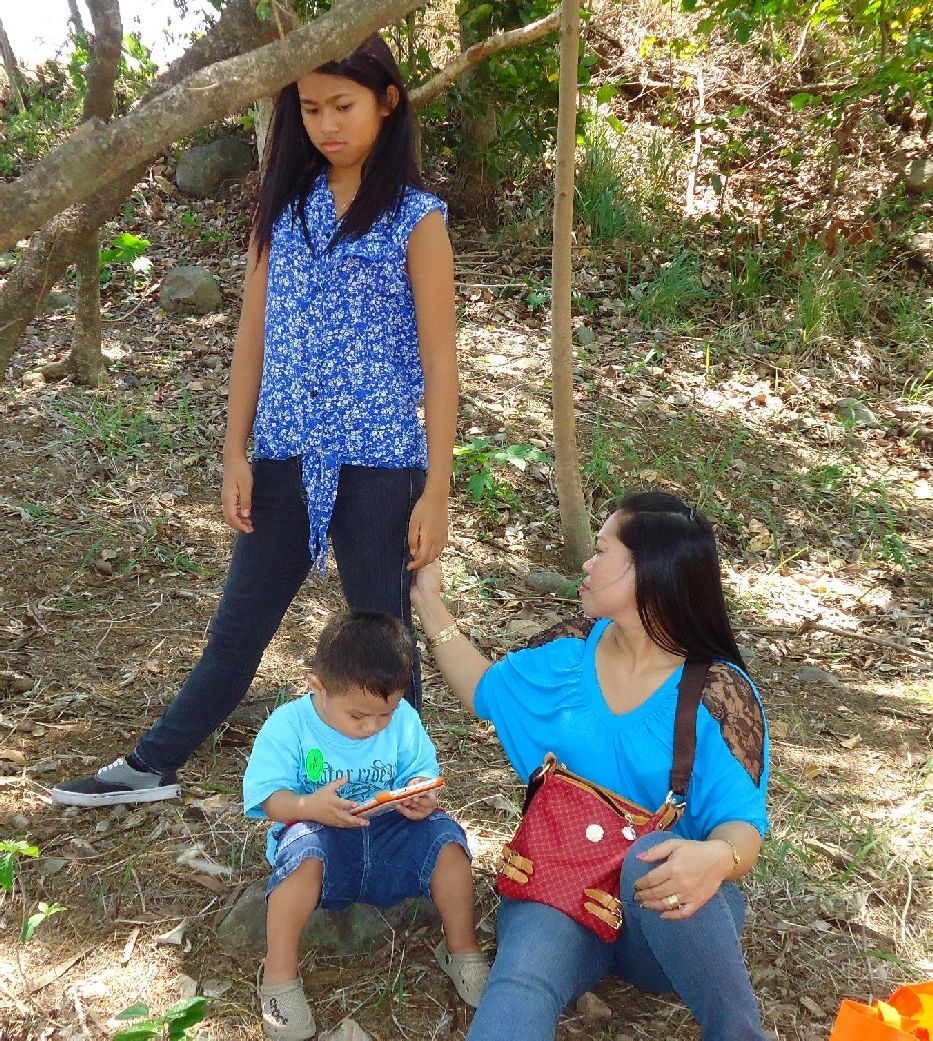 373. Wife, daughter and nephew had to cool their heels here in the shade. The daughter stayed busy and found two artifacts, right in this area.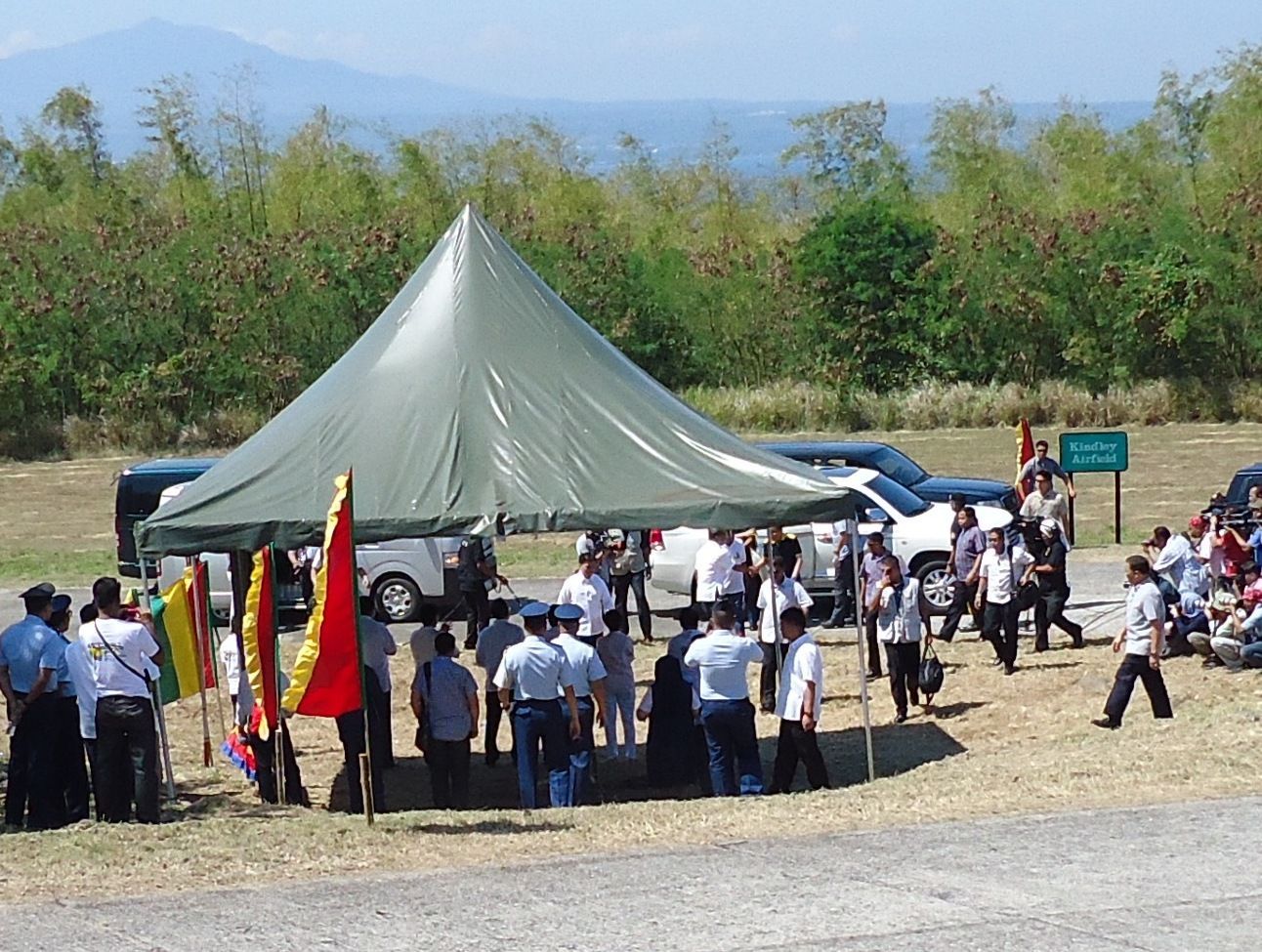 374. The President arrived and shakes his first hand here. He just stepped out of that silver car and has a black shirt on with yellow stripes on the shoulder.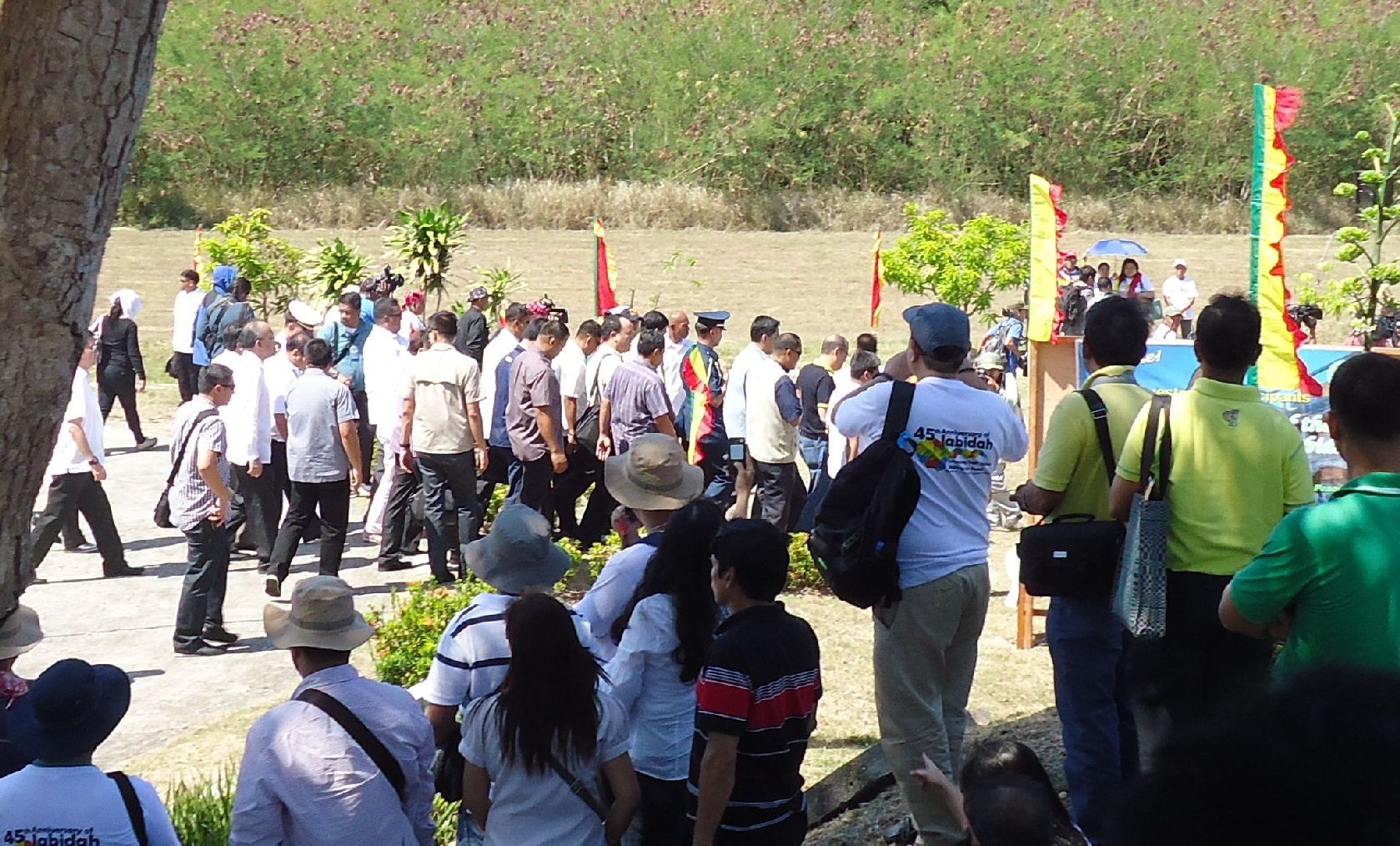 375. The President is proceeding towards the Commemoration Site and is in front of this walking group.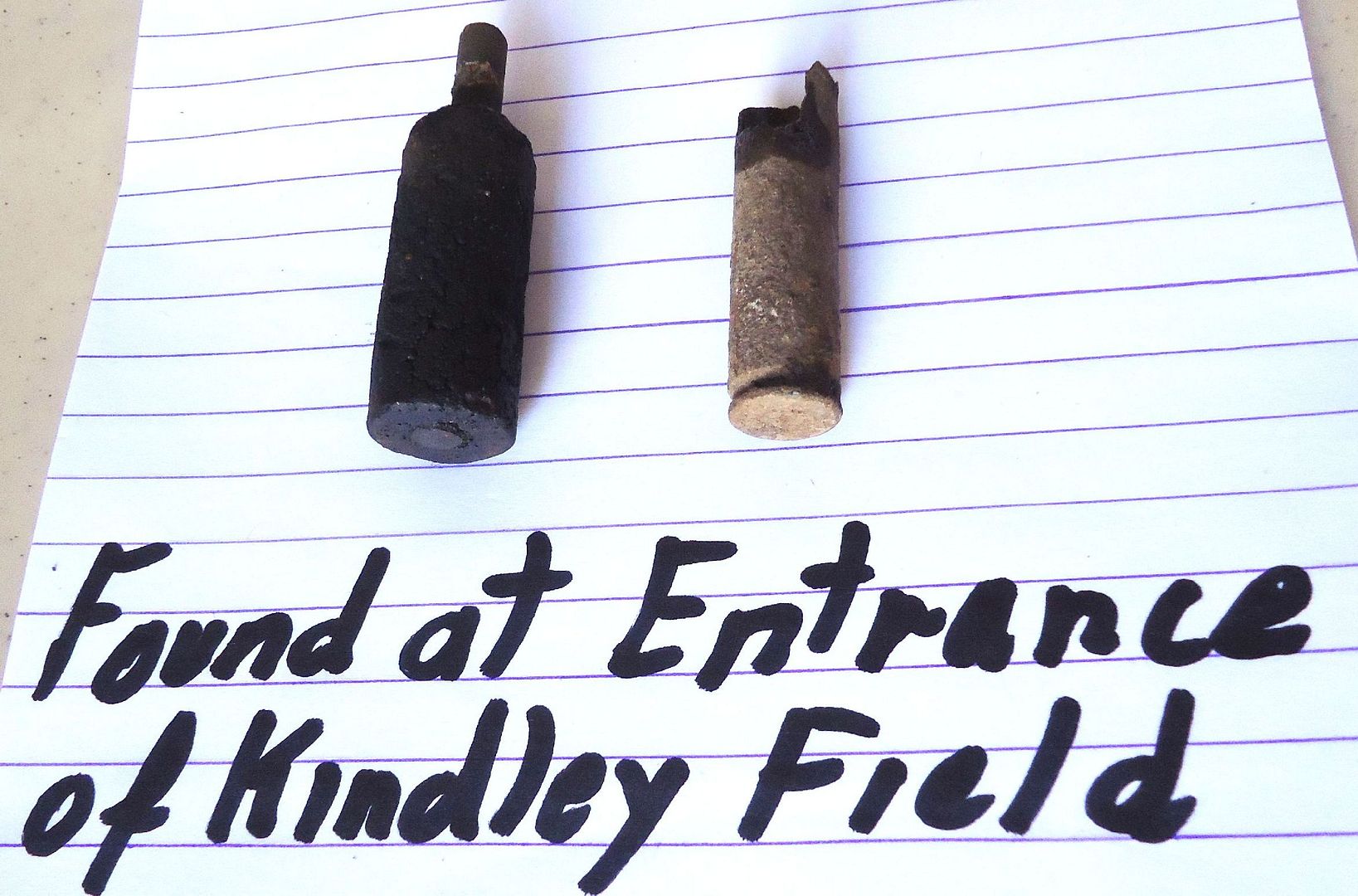 376. The two items my daughter found right there in those shady trees, right next to the Kindley Airfield entrance. That left item sure intrigues me!
377. In the North Channel was this Philippine warship and the Philippine Coast Guard also had a ship here and maybe there were more assets in the south. Sorry about the picture not being straight. I had it corrected but then maybe failed to execute it, stuff happens, sorry.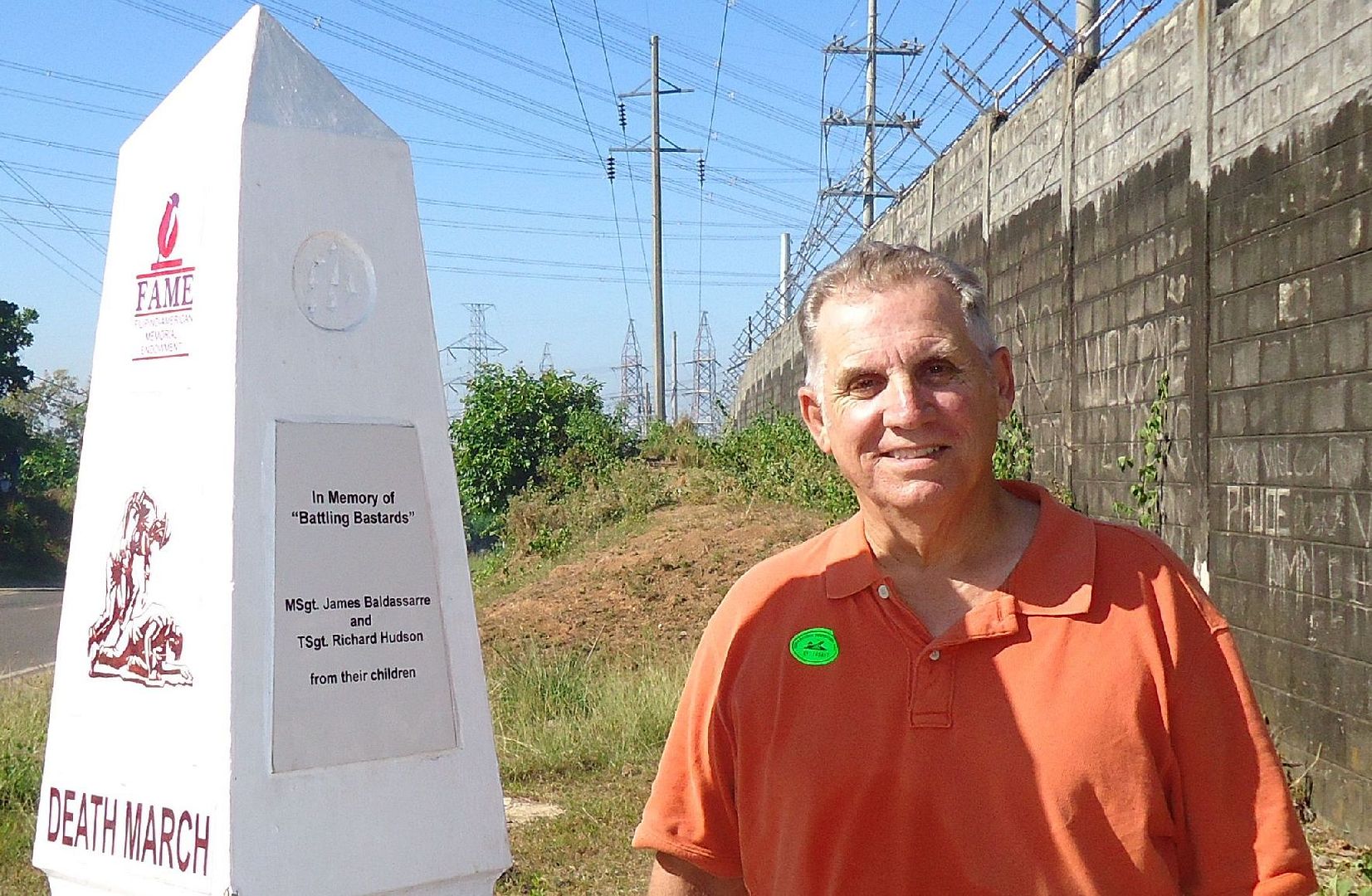 378. On our way home we had to stop here and look at this special Death March Marker #24. It is sponsored by the two well known sons of these two heroes. I will present more soon, about this marker and news about the Death March Markers in general.