Post by fots2 on May 17, 2009 13:20:00 GMT 8
I started writing a simple response to mapmaster's thread about 'Inside Malinta Storage System'.
corregidor.proboards.com/index.cgi?board=cartography&action=display&thread=377
It kind of grew a life of its own so I decided to post a mini trip report here.
It is interesting what we take for granted. All the times I have walked past those laterals and never realized that one of them was 'missing' until our surveys. It is like a haunted house with a secret room. As mapmaster says, it is not actually missing; it is just not visible from the main east-west tunnel.
The day tourists and the overnighters who take the 'Malinta laterals night tour' do NOT get to visit this area of the underground complex.
Here are a few photos of what the 'Gasoline Tunnel' area of the Malinta Tunnel looks like. (By the way, many people refer to it by that name but I have never seen any official name for it. Also, I have been told it probably stored diesel fuel and not gasoline. Anyone know for sure?
A - on the western side of Malinta Hill, the Gasoline Tunnel has its own entrance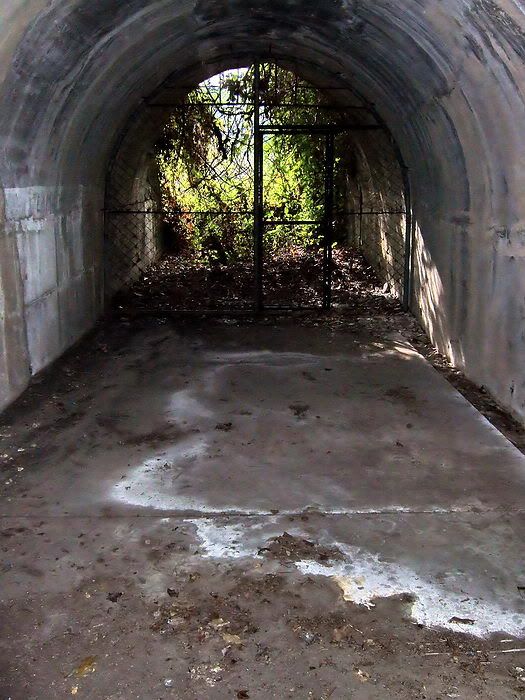 B - looking back out the Gasoline Tunnel entrance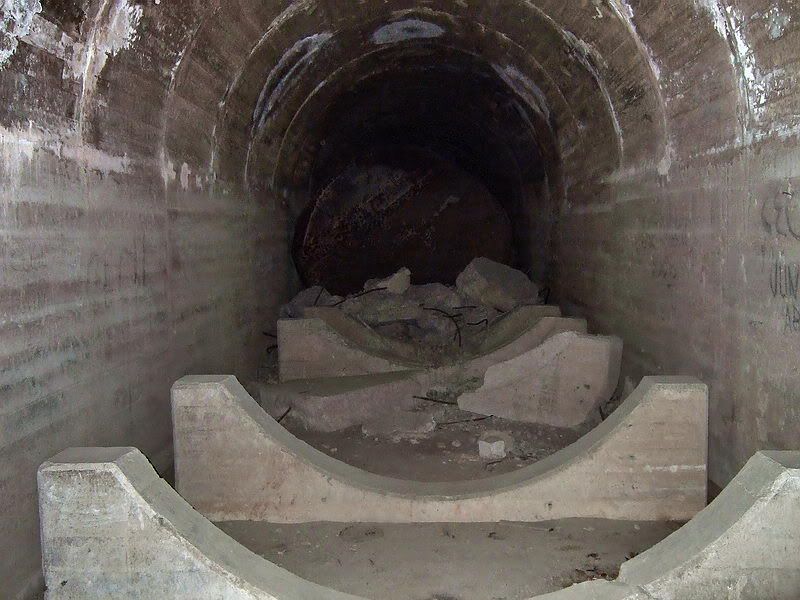 C - here is a view of the mounts and one tank at the end of a lateral. The size of these tanks is only a little smaller than the lateral in which they were installed. There is a walkway down each side of a tank but it is quite narrow. This one is flattened by a roof cave-in above it.
D - this tank has been pushed (from right to left) across the main tunnel by the force of an explosion.
E - the end of the main tunnel with north and south laterals ahead. Here is another dislodged tank with the end bowed out. Fuel drums are scattered everywhere. This is amazing, note the ceiling which was so hot from the fires that it melted and was dripping.
F – imagine the force required to crush/melt these huge tanks like beer cans.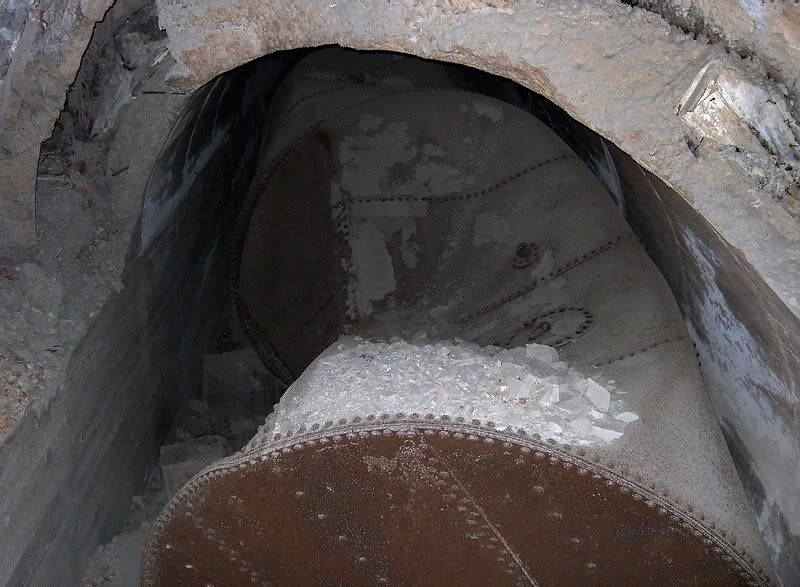 G – another 'beer can'.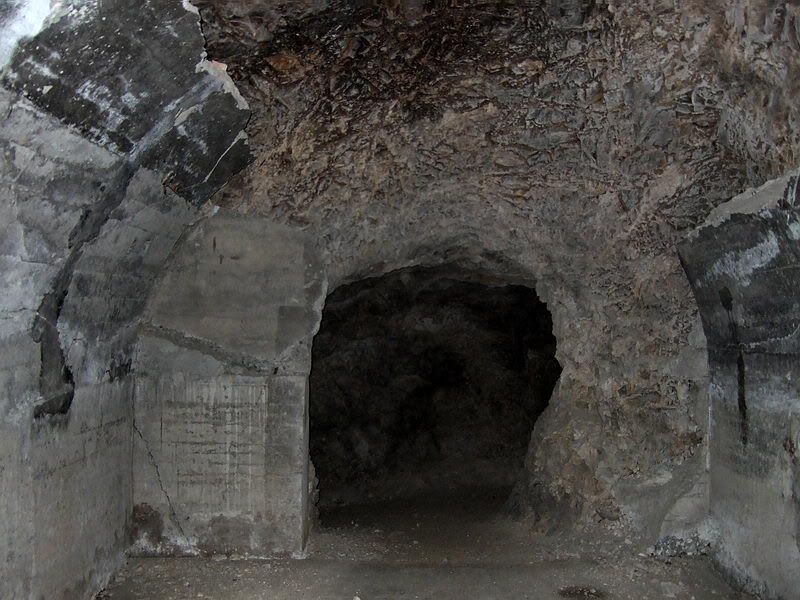 H – time to get back out of there. Make your way north up one of two accessible laterals to reach the small ventilation tunnel running east-west. In this photo, it starts at the end on the right (this is the north-western corner of Malinta Tunnel).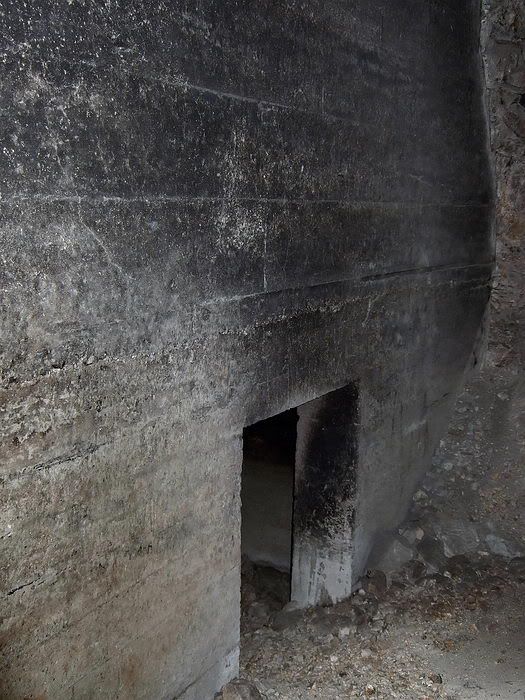 I - walking east along the rough ventilation tunnel, here is what the small doorway into north-west lateral #2 looks like.
J – continuing east, here is the doorway to north-west lateral #3. Note the ventilation tunnel continuing straight ahead. To exit Malinta go straight ahead to the next lateral and turn right. When you reach the main Malinta east-west tunnel, turn right to exit via the west entrance.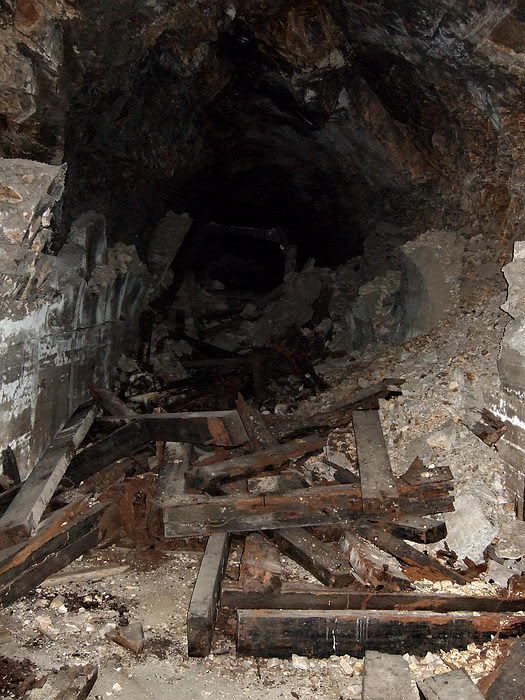 K – finally, if you think all of Malinta Tunnel has been cleaned-up and resurfaced over the years, look at this. There are still original wooden beams and metal brackets lying around this north-side lateral. All of Malinta Tunnel must have been a real mess after the war and before clean-up work began.