Post by Karl Welteke on Nov 20, 2012 10:35:24 GMT 8
To our main goal, a close village to and south of Carabao Island. The Surprise Road Tunnel.
After we settled in Nasugbu we continued to that village. We learned the village's name was Santa Mercedes and that this area still belongs to the Cavite Province and Maragondon Municipality.
When we visited Limbones Island in February this year with our CDSG friends we had to pay 18,000 peso. And over the last few years dealing with boat transportation to the Manila Bay Islands with boats from Bataan was often a frustrating experience. So that is the background for looking for an alternate way to some of the ex Manila Bay Defense installations, the Manila Bay islands.
We found some villagers in Santa Mercedes and made arrangements to return soon and use their services for transportation to Limbones and Carabao Island.
Also on that boat ride in Feb. 2012 we seen a fresh road cut on the slopes of Pico de Loro and figured it was an effort to built a road from Nasugbu to Ternate. But my friend John had found out on the internet that a tunnel is being build for that very purpose. So that became another goal to look at that. We found the tunnel and roads to be practically finished. Maybe a year or less there will be an alternate and shorter way to Nasugbu.
Shoe Mart (SM) has a major, major development project going on in this area maybe that is another reason for this road and tunnel being build.
Here are some sample images:
I generated this image for John a few days before to tell him what I had in mind and what I thought we seen. As it turned out it was the road cut I marked in white that what we seen and the village had the name Santa Mercedes. This village was our goal to ask about boats to Carabao and Limbones islands. The road coming down in the GE image is the road to the tunnel from the Ternate side and we didn't see it from the boat in Feb 2012.
s74.photobucket.com/albums/i265/PI-Sailor/Images%20to%20be%20linked/?action=view&current=17Freshlycutroadweseenonourwaytolimbones.jpg
These are the Palay-Palay Mnts and in particular the Pico de Loro peak. We seen this sight on our visit to Limbones Island early 2012 with CDSG friends. We were wondering about that fresh road cut. On this visit on the 15th Oct 2012 land visit we learned it is new road to a new tunnel for a new Nasugbu-Ternate Hwy.

This great image is from a Philippine hiker www page, shot from the Pico de Loro peak and shows the Santa Mercedes Village and Limbones Island. We were in that village this trip and on Limbones Island early 2012.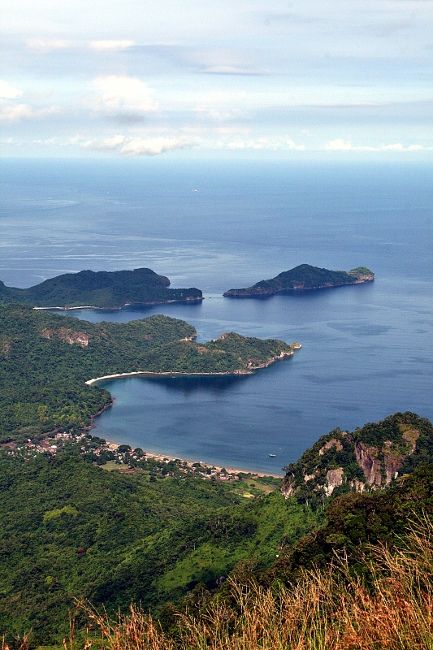 Another image from the www showing those many beautiful coves on our way north. We want to go to the Patungan Cove, that is where the Sta. Mercedes Village is located. This may have come the SM Development web pages.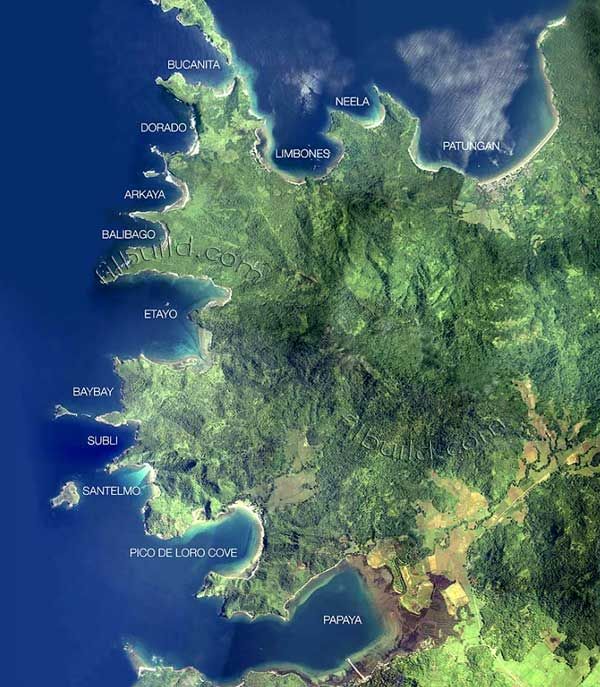 Not far north from Nasugbu is this development, high end residents. It is called Kawayan Cove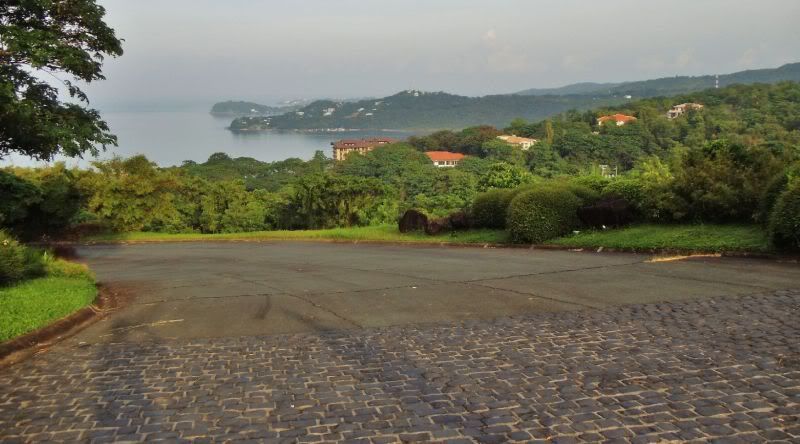 We found this image on the www and wanted to see it. But when we got to the gate we were to wait for the sales agent to arrive a couple hours later, so we had to give up this idea. The source and text is printed on the image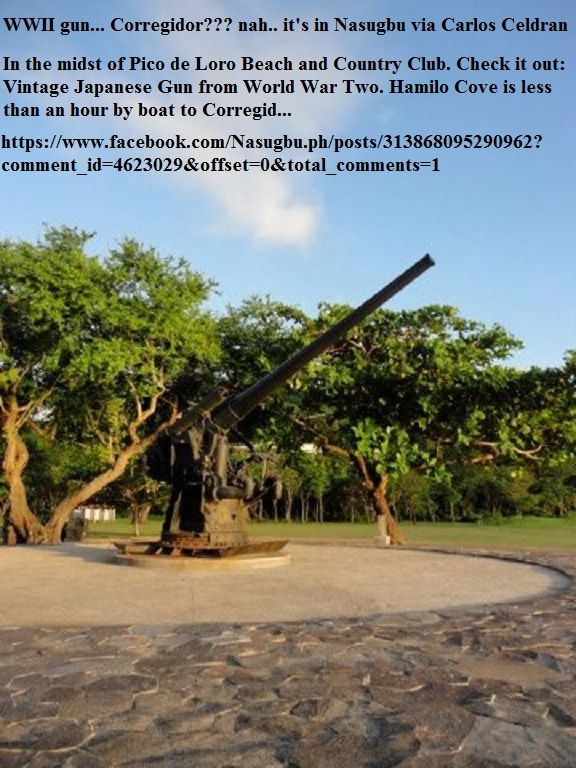 The Santa Mercedes village is here and we came from Nasugbu to here. We found the folks to be accommodating about providing transportation to Carabao and Limbones islands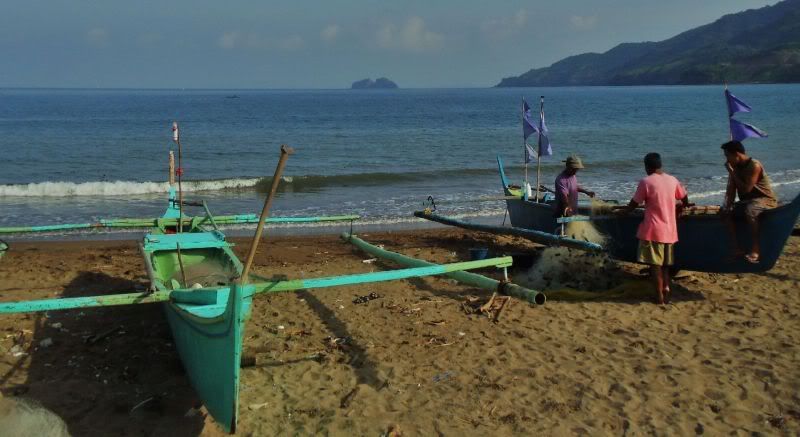 The road to the west (Nasugbu side) tunnel entrance is practical done and we were able to drive to this point and all the way to the tunnel entrance.
s74.photobucket.com/albums/i265/PI-Sailor/Images%20to%20be%20linked/?action=view&current=28121015cNasugbu-TernateTunnelwestend02.jpg
The Nasugbu to Ternate Tunnel entrance, at the Nasugbu side.
s74.photobucket.com/albums/i265/PI-Sailor/Images%20to%20be%20linked/?action=view&current=29121015cNasugbu-TernateTunnelwestend09.jpg
That is Limbones Island as we see it from the new road to the new Nasugbu-Ternate Tunnel. It was part of the Manila Bay Defenses and the US Army Coastal Defense had facilities on the NW end of the island.
s74.photobucket.com/albums/i265/PI-Sailor/Images%20to%20be%20linked/?action=view&current=30121015fNasugbu-TernateTunnelLimbonesIsl03.jpg
This picture of steps and pipes to receive the communication cables is from our early 2012 visit here, all the way from Bataan for 18000 peso. This is in the NE side of the island.
Carabao Island, the ex Fort Frank, from the new road, Nasugbu side, to the new tunnel.
s74.photobucket.com/albums/i265/PI-Sailor/Images%20to%20be%20linked/?action=view&current=31121015eNasugbu-TernateTunnelCarabaoIsl03.jpg
Be reminded here is the whole album with 64 images which all have descriptions:
s74.photobucket.com/albums/i265/PI-Sailor/Manila%20Bay%20Forts-Other/From%20Cavite%20Side/Cavite%20Trip%20etc%202012%20Oct%2014%20to%2016/
And if you like to look at all the images of this trip, they are here:
2016-10-01 this link below is dead!
pisailor.multiply.com/photos/album/137/NasugbutunnelCarabao-Limbones-Isl.TernateNaicMaragondon-2012-10-14-to-16
This album and this photo sharing company do not exist anymore. It is one of my bad luck stories with photo sharing companies
This time only 7 images out of 12 uploaded, when will it ever end, my troubles?